ST ANDREWS GOLF PACKAGES
Book a fantastic St Andrews Gold Package from Rockstar Golf and take the Ultimate Pilgrimage to Scotland and St Andrews the Home of Golf.  Quite simply it doesn't get better than this.
ENJOY THE EXPERIENCE OF A LIFETIME
GOLFERS ITS TIME TO COME HOME
 NOW is the time more than ever to plan your pilgrimage to St Andrews the Home  of Golf.
If you are a golfer you already know there is no substitute for St Andrews This is Golf's Mecca its where it all began and will always end. Just do it
 AMAZING CHOICE OF GOLF COURSES
Fife and St Andrews have it all. Whether you want to play The Old Course,  The New Course or even one of the Brand new Gems like Dumbarnie or Kingsbarns. Theres 41 courses within easy travelling distance.  The problem here is choosing what courses not to play. 
ENJOY THE EXPERIENCE 
 If your idea for this Golf trip is to spend your time golfing rathering than traveling all over Scotland.  St Andrews is the perfect choice.
Dependant upon your accommodation. The majority of the courses are on your doorstep
 ST ANDREWS  WHAT TO EXPECT
The Town of St Andrews just exudes golf.  Expect great courses, amazing hotels and the ultimate in Scottish hospitality.
Meet new Golf Friends as you walk in and around the town. Check out the Swilken Bridge, Old Toms Grave and the Museum.  
Magnificent 7 Day Golf Package
Our suggested 6 night vacation package includes:
6 nights B&B at  Fairmont or Rusacks Hotel
5 rounds of golf at St Andrews Old (ballot now for 2021)- Castle, New Course, Dukes, & Torrance
Taste of Scotland Food & whisky Pairing in Edinburgh.
Edinburgh Day Trip and Tour
Distillery Visit with Tour and Tasting
Car rental (self-drive) with insurance
Our prices include all taxes and surcharges
From :
£3200 per person – Twin Share Rooms
£4200 per person – Private Single Rooms
Wonderful 7 Day Golf Package
 Our suggested 6-night vacation package includes:
6 nights B&B Hotel Du Vin or 4 Star Hotel

5 rounds of golf at St Andrews Castle, St Andrews New, Kingsbarns or St Andews Old (Ballot now for 2021), Dumbarnie & Crail Golfing Society.

Taste of Scotland Food & whisky Pairing in Edinburgh.
Edinburgh Day Tour with return transfers
Distillery Tour and tasting
Luxury Car rental with insurance 2-4 Persons(self-drive)
8 Person Mercedes with Chauffeur- 5-8 Persons
Our prices include all taxes and surcharges
 From :
£2600 per person – Twin Share Rooms
£3200 per person – SINGLE Rooms
To speak directly with a Scottish golf & hospitality specialist.  Please call :
SCOTLAND – (+44) 131 202 6107 
US/CANADA – (+1) 905 630 2711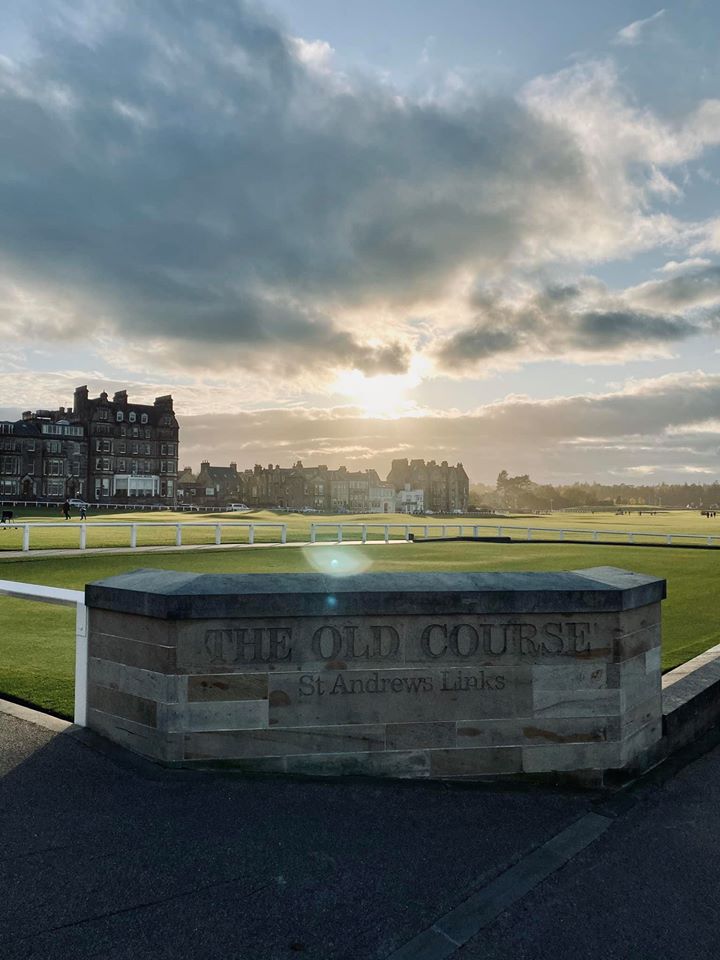 7 DAY -ST ANDREWS GOLF PACKAGE ITINERARY
Day 1
Arrive at Edinburgh Airport and drive to Rusacks or min 4 Star Hotel in St Andrews (45 mins drive)
Day 2
Play golf at St Andrews Castle Course (10 mins drive from the hotel)
  
Day 3
Play golf at St Andrews Old Course (ballot) or Crail Golfing Society 
Day 4
Play golf at Visually New and visually stunning Dumbarnie Links (25 mins drive from the hotel)
Day 5
EST DAY – Transfer to the Edinburgh for Walking Tour, Whisky Tour and Tasting and taste of Scotland Food and whisky pairing. (1 Hour 45 mins drive)
Day 6
Play golf at the renowned Kingsbarns Championship course which is hosting the 2020 Dunhill Cup  (25 mins drive from the hotel)
Day 7
Play golf at St Andrews New Course (2 mins walk across from the hotel)
Day 8
Return Home (1 Hour  mins drive to Edinburgh Airport)