Scotland's magnificent Golf Coast, which boasts 21 Scottish golf courses along 30 miles of stunning Firth of Forth coastline, should be on every golfers bucket list.  
 ROCKSTAR GOLF TOURS
 SCOTLAND'S GOLF COAST TOUR 8 DAYS/7 NIGHTS 
ENJOY THE EXPERIENCE OF A LIFETIME
BEAUTIFUL DRIVE
Scotlands Golf Coast is situated just 30 minutes East of Edinburgh.  After arriving at the Airport take in the spectacular scenery as you experience a wonderful 30 mile drive along Scotlands east coast which is home to 21 wonderful golf courses. 
GOLF HEAVEN
Whether you want to play a Hidden Gem like The Glen at North Berwick with sea and cliff top views of the Bass Rock or experience Muirfield, Gullane or The Renaissance Championship Courses. You are in golf heaven.
GREAT COURSES 
 If your idea for this trip is to spend your time golfing rathering than traveling all over Scotland.  This is the ultimate location for your vacation.  Theres plenty of wonderful courses located beside very best accommodations.
NORTH BERWICK  
The Marine Hotel is a fantastic venue for your trip.  It backs onto the Historic West Links.  Enjoy spectacular views of the course from your room or the garden patio.  At sunset walk over the course to the North Berwick beach.  
Magnificent 8 Day Golf Package
Our suggested 7 night vacation package includes:
7 nights B&B at Greywalls Hotel 5* or Marine Hotel 4*
6 rounds of golf at Dunbar, Gullane 1 & 2, Muirfield,  North Berwick West &  North Berwick East Links.
Taste of Scotland Food & whisky Pairing in Edinburgh.
Edinburgh Day Tour
Distillery Tour and tasting
Car rental (self-drive) with insurance
Our prices include all taxes and surcharges
PACKAGES FROM :
£2000 per person – Twin Share Rooms
£3000 per person – Private Single Rooms
The World-Class City of Edinburgh and its all year round Events Calendar allows for some excellent and fun experiences away from golf.  Check out and book numerous Activity, Restuarant and Sightseeing tours, etc and Build Your very Own fully customised Package.
AVAILABLE UPGRADES INCLUDE:
Edinburgh Excursions
Point to Point Transport
Full-Time Chauffeur Service
Accommodation Upgrades
Additional Golf Options – such as Renaissance Club home of the 2020 Male/Female Scottish Open
To speak directly with a Scottish golf & hospitality specialist.  Please call :

 SCOTLAND – (+44) 1334 230004
 US/CANADA – (+1) 905 630 2711
Wonderful 5 Day Golf Package
Our suggested 4-night vacation package includes:
4 nights B&B at Greywalls Hotel 5* or Marine Hotel 4*
3 rounds of golf at Gullane, Muirfield,  North Berwick West &  North Berwick East Links.
Taste of Scotland Food & whisky Pairing in Edinburgh.
Edinburgh Day Tour
Distillery Tour and tasting
Car rental (self-drive)
Our prices include all taxes and surcharges
From £1600 per person
7 NIGHT -SCOTLANDS GOLF COAST ITINERARY
Day 1
Arrive at Edinburgh Airport and drive to Greywalls Hotel 5* or North Berwick Marine Hotel  (45 mins drive)
Day 2
Play golf at The Glen – North Berwick East Links Golf Course (5 mins drive from the hotel)
Day 3
Play golf at Muirfield Championship Golf Club or The (5 mins walk from the hotel)
Day 4
Play golf at Gullane 2 or 3 (10 mins drive from the hotel)
Day 5
REST DAY – Transfer to the Edinburgh for Walking Tour, Whisky Tour and Tasting and taste of Scotland Food and whisky pairing. (45 mins drive)
Day 6
Play golf at Gullane 1 Scottish Open Championship Course  (10 mins drive from the hotel)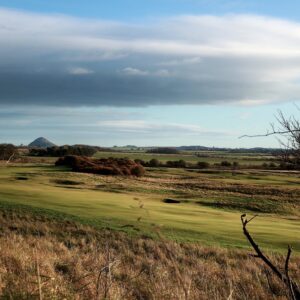 Day 7
Play golf at North Berwick West Links (2 mins walk from the hotel)
Day 8
Return Home (75 mins drive to Edinburgh Airport)